Steven Adler Recounts His Role in Mötley Crüe's "Kickstart My Heart"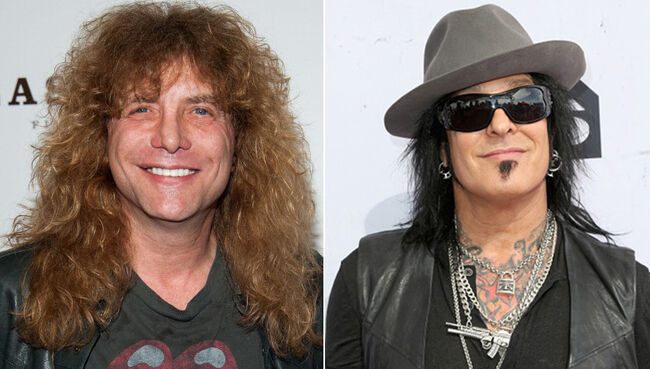 Former Guns N' Roses drummer Steven Adler was with Nikki Sixx the night of the Mötley Crüe bassist's near-fatal overdose that inspired one of the band's most popular songs, "Kickstart My Heart."
Adler says it was his own efforts to save Sixx's life that led to the song, not the efforts of the paramedics as Sixx remembers. The bassist has long claimed he wrote the song after one night in 1987 when he took so much heroin that his heart stopped. EMTs pronounced him dead, Sixx claims, before reviving him with two shots of adrenaline into his heart.
But Adler has a different story.
"[They] didn't do that," Adler said, referring to Sixx's claim about the shots of adrenaline. "I dragged him into the shower with a broken hand and a cast on my hand, I rolled him in, I put the cold water on him in the shower and I started slapping him in the face with my cast. And next thing you know, the purple in his face just disappeared. And then right then, the paramedics came in and they grabbed him out of the shower like a rag doll, dropped him in the living room and they just pumped his chest with their hands. And that was it."
There are no hard feelings though, Adler added, he doesn't mind Sixx's tale, even if it is apocryphal. "He got a hell of a good song out of it. It is entertainment, after all."
The drummer made the comments after being asked about claims by GNR's former manager Doug Goldstein that Sixx and Crüe stole a GNR riff for their '89 hit, "Dr. Feelgood." Adler says there's no truth to that claim "whatsoever."
"Nikki is a genius. He is one step ahead of everybody. But he didn't steal nothing from nobody. He's a freaking genius."
While "Kickstart My Heart" was a minor hit for Crüe, peaking at #27, it's long been a fan-favorite.
Sixx chronicled the depths of his drug addiction in his New York Times best-selling memoir The Heroin Diaries. The bassist has been outspoken in recent years about how to prevent opioid abuse in American and how to treat addicts.
Adler's own battles with addiction got him fired from Guns N' Roses in 1990. He wrote about it in his own memoir, My Appetite for Destruction: Sex, and Drugs, and Guns N' Roses.
Adler has added singer Constantine Maroulis to the lineup of his band Adler's Appetite, which is touring Australia this month. Get a peak at the dates here.
Photos: Getty Images